Sign Up for Maintenance Tips
Posted on Jul 20, 2020 11:33:26 AM by Erica Perez
AGC is excited to announce the Pro10 as its newest addition to the ProFlow plate series!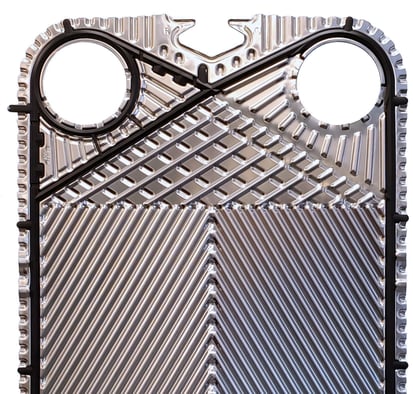 Designed specifically for the food and beverage industries, the Pro10 is being offered in new AGC frames and as upgrades for Clip10, Front10, and C10 frames.
What sets AGC's Pro10 plate apart from the rest?
Distinguishing characteristics include the free-flowing port inlet resulting in reduced pressure drop in the inlet area and bright anneal finish allowing for better evaluation of clean-in-place (CIP) response. To increase durability and reduce bending, AGC offers the 316 stainless Pro10 plate in 0.7mm thickness. With maintenance in mind, AGC designed the Pro10 with an enlarged hanger to allow plates to slide smoothly during installation or inspection. The Pro10 also features a snap-in gasket for secure gasket attachment.
The benefits don't stop with the plate features. Along with all AGC ProFlow series plates, the Pro10 plate is pressed and stocked here in the United States allowing for quick response and minimal lead time. When ordering plate packs from AGC, rest assured knowing plates will arrive packed in order per the streaming diagram, providing peace of mind and saving valuable time at installation.
Contact your AGC representative for more information!