Get More From Your Heat Exchanger With Custom Plate Configuration
Sign Up for Maintenance Tips
Posted on Oct 7, 2021 4:15:00 PM by Erica Perez | 4 min. read
If your heat exchanger isn't running at its highest potential, nine times out of ten, it's not worth it to replace the entire system. Look at it this way: if your car's engine isn't running at peak performance, you wouldn't go out and buy a whole new car. Why treat your heat exchanger any differently?
You can optimize your heat transfer in a variety of ways, but the simplest way to get the most out of your heat exchanger is to upgrade to custom parts that are designed for your specific production line.
If you're looking to increase efficiencies across your facility, consider a plate heat exchanger that can handle your goals. And if that's the case, custom plate configuration is the way to go.
What is custom plate configuration? Keep reading as we explain it all below.
Standard vs. Custom Plate Configuration
Most standard plate heat exchanger designs take a simple cookie-cutter approach. They are designed to perform a general, effective heat transfer on any number of products. But most manufacturers don't take the needs of your specific production line into account.
So while a standard plate heat exchanger can "get the job done," that's about it.
Custom plate configurations are add-ons or replacements to existing heat exchanger designs. These custom plates may have a larger surface area, larger gaskets, or even have a different material to match your production line's unique operations.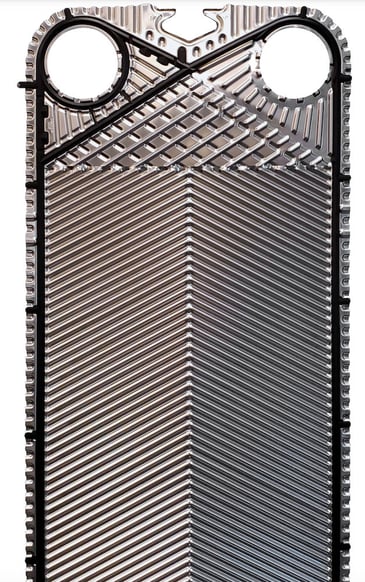 For example, AGC's ProFlo Series customized plate packs have a large surface area and match the 3-A sanitation standard. This makes these the perfect heat exchanger selection for the food industry where these factors are crucial.
With a standard array, the system can handle food processes, but the production line won't be able to run at peak performance. And depending on the manufacturer, there is no guarantee the plates will consistently meet 3-A sanitation standards.
Here are some more benefits you can expect from a custom plate heat exchanger:
Higher Flow Rates Help You Manage Efficiency
While we mentioned that AGC's custom heat exchanger plates can provide you with a larger surface area (thereby speeding up heat transfer), AGC can also improve your overall gasket flow.
To run at peak efficiency, the gasket flow should be adjusted and tweaked for each individual product running through your plate heat exchanger. These adjustments take into account the viscosity, material, and starting heat of your product. And at AGC, we engineer your gaskets to create that optimized flow.
Between higher flow rates and a larger surface area, you'll be able to process more products per batch and complete more batches per shift. And with AGC's ProFlow Series, you'll kick your production output into high gear.
You Won't Need to Give Up Too Much Space
When it comes to speeding up your production line, sometimes you just don't have room for new systems. When you're told you need to install new equipment or add bulky upgrades to existing infrastructure, the fact is that there isn't always room on the factory floor.
But with custom plate configurations, you can step up your plant's output without digging into your team's elbow room. And with AGC's custom plate-type heat exchanger designs, you can save even more room in your operations.
We personalize our heat plates to maximize the output of your unique line. Whether you need to minimize your footprint or create custom fits for your line, we'll give you a heat exchanger that makes the most out of your unique limitations.
Custom Heat Plates Fit Right Into Your Production Line
If you're looking to get more out of your heat exchanger, it can be costly to rearrange your entire production line — not to mention the downtime you'll experience during the upgrade. But with custom plate packs, you won't need to worry about extensive interruptions.
Since custom heat plates fit directly into your current heat exchanger, there's no reason to move anything around. And since they have a quick installation, you can get back up and running with your newly improved equipment in no time.
Our custom plate heat exchangers will help you keep your product moving, and minimize your installation downtime.
You'll Receive Huge Cuts to Your Energy Costs
When you install custom plate packs to boost your output, you may be concerned that your energy bills will skyrocket with your production. Fortunately, that couldn't be further from the truth.
AGC's custom plate and frame heat exchanger designs are engineered to boost operational efficiency. Because of the greater plate surface area and the increased contact times during flow, you'll speed up your production line without spending a cent more on utilities.
Even more good news: with some gasketed plate heat exchanger designs, you can reuse waste heat, thus lowering your energy bill even further.
Don't Let Unnecessary Production Costs Build Up
Overall, a custom plate configuration can be the solution you've been looking for to ramp up your production line and cut energy costs.
And if you're looking for custom plate heat exchangers, let the pros at AGC help you out. No matter how you layout your operations, we can create custom plate packs that fit into your business plan and maximize your output.
The sooner you install your custom plate heat exchangers, the sooner you can give your plant a competitive edge. Contact AGC today and get a quote on custom plate packs for your unique heat transfer needs!
Topics: AGC Way