Sign Up for Maintenance Tips
Posted on Apr 15, 2020 11:02:31 AM by Erica Perez
AGC is not letting social distancing prevent us from serving our customers.
While those who can work remotely, are doing so, we still have a team of dedicated personnel in our manufacturing facilities ensuring we keep your operation running.
AGC is ready to fulfill your Plate Heat Exchanger needs!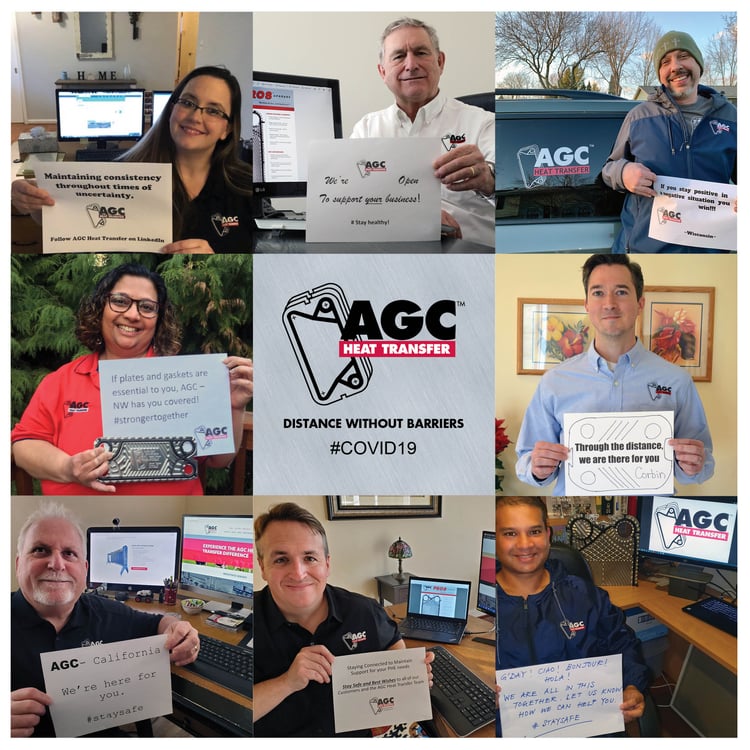 Erica Perez - Sales & Marketing Coordinator says "Maintaining consistency throughout times of uncertainty"
Colin O'Sullivan - President says "We're open to support your business"
Bruce Meier - Service Technician WI says "If you stay positive in a negative situation you win"
Minita Feldsien - Sr. Sales Engineer OR says "If plates and gaskets are essential to you, AGC NW has you covered!"
Corbin Behnken - Sr. Sales Engineer VA says "Through the distance we are there for you"
Jeff Elder - Sales Engineer CA says "We're here for you"
Ron Smith - Sr. Sales Engineer VA says "Staying connected to maintain support for your PHE needs"
Rajib Datta - Sr. Sales Engineer Australia says "We are all in this together. Let us know how we can help you."
Stay safe, stay healthy and most of all stay strong - Together, we will get through this.