New AGC Heat Transfer Service Center Will Elevate Midwest Plants
Sign Up for Maintenance Tips
Posted on Oct 10, 2022 9:30:00 AM by AGC Heat Transfer | 2 min. read
The Midwest will be getting a hot addition as our team at AGC Heat Transfer comes close to opening its new service center.
While AGC has been serving plants across the nation for decades, our new location will add a new level of convenience to plants in the heart of the country. Located in Pleasant Prairie, Wisconsin, the plant will serve as a full regasket center and can ship in-stock parts nationally and internationally (and offer quick-turn delivery to many Midwest plants).
Take a look at how this addition will improve heat exchanger maintenance and upkeep.
Same-Day Heat Exchanger Parts Delivery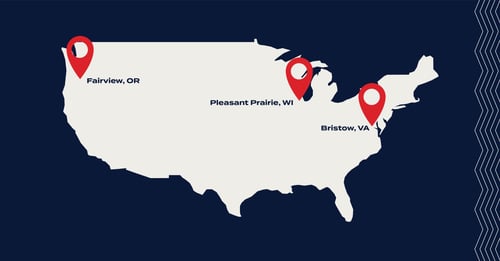 While getting critical spare parts to the Midwest has often required next-day air, the new service center will make it possible for some plants to get their parts same-day. Because we work closely with plants across the Midwest, AGC is up to date on the most common plates and gaskets used by local plants. Our service center will keep these OEM and AGC parts in stock to accelerate emergency repairs and shorten standard delivery times.
Overseeing Spare Parts Installation
Not only will we be able to deliver parts directly to your plant (depending on your location in the event of an emergency), but our service technician can provide oversight in the installation of your spare plates to ensure that the replacement is successful and gets your production line back up and running.
With a technician already on site, we can also save you space around your plant and haul away any old plates.
Simplify Regasketing Heat Exchanger Plates
For many Midwestern plants, cleaning and regasketing services are moving into your backyard. Plants that send their plate packs to AGC for cleaning, testing, and regasketing service can decrease shipping times and costs (and can do so knowing that their plates will be inspected and restored to like-new condition).
Elevating Our Service (and Our Look)
You might have noticed something a little different about AGC lately. As we elevate our service nationwide, we're also updating our look to better reflect who we are (and what we do).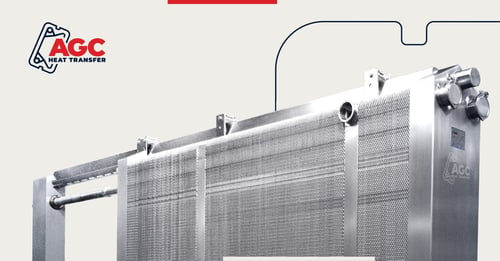 As leaders in the sanitary heat exchanger space, our new brand is bright, bold, and clean — reflecting exactly how we serve the food production industry.
AGC continues to lead the market in parts availability and custom heat exchanger builds. Because we're always planning ahead, we have what we need to press plates and build the plate heat exchanger you need to be successful. If you need service or parts, contact us today to find out how we can help